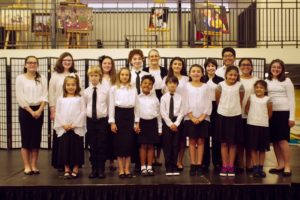 The colibrí children's choir is a community, auditioned treble choir for students in first through ninth grade. Students are selected on the basis of their aural and vocal potential, their desire to sing, their ability to learn quickly and their willingness to work hard. Children from public, private, parochial, charter, and home schools meet Sunday afternoons for rehearsals and musicianship classes, which are designed to teach music literacy. The program is based on the philosophy developed by Zoltán Kodály. The choir performs at least two concerts each year at the McAllen Creative Incubator and has appeared at McAllen's Christmas in the Park and Fourth of July program and other community celebrations.
Training Choir (first through fifth grades) meets from 2:00 pm to 3:20 pm.
Concert Choir (fifth through ninth grades) meets from 3:00 pm to 5:00 pm.