Summer Choir Camp 2017 - July 10-14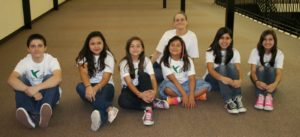 A Summer Choir Camp will be offered by colibrí children's choir from Monday, July 10 through Friday, July 14 at the McAllen Creative Incubator, 601 N. Main St. (the old McAllen library).  Singers entering grades 1 through 4 may join the morning session (9:00 AM to noon).  Singers entering grades 5 through 9 may join the afternoon session (1:00 PM to 4:00 PM).
The camp will consist of choral rehearsals, musicianship classes, and singing games. The choir will learn several songs for a final concert at 3:00 PM Friday. The students will develop their singing voices and music reading skills. 
Carol J. Brown
, director of colibrí children's choir will teach the classes. Students will be given a small snack each day and a camp t-shirt. Tuition is $125.00.
Enrollment will be limited so please register as soon as possible to ensure a spot. Download the 
registration form
. Fill it out and mail it in with a check for the $25 deposit. You may also bring it by the Incubator but please call first (956.307.6074) to ensure that someone will be there.
Check our 
Facebook page
 to see more videos of children's choirs.  "Like" our Facebook page to help spread the word.