Announcing auditions for colibrí children's choir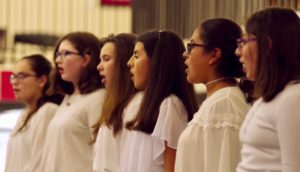 Auditions for the colibrí children's choir will be held on Saturday, January 20 from 9:00 am to 1:00 pm at the McAllen Creative Incubator (601 N. Main). No appointment is needed. For those unable to come at this time, please call 956.307.6074 to arrange an alternate time.
Our first rehearsal will be Sunday, January 21.
The colibrí children's choir is a community, auditioned treble choir for students in first through ninth grade. Students are selected on the basis of their aural and vocal potential, their desire to sing, their ability to learn quickly and their willingness to work hard. Children from public, private, parochial, charter, and home schools meet Sunday afternoons for rehearsals and musicianship classes, which are designed to teach music literacy. The choir performs at least two concerts each year at the McAllen Creative Incubator and has appeared at McAllen's Christmas in the Park and Fourth of July programs and other community celebrations.The choir meets in the Gallery of the McAllen Creative Incubator, 601 N. Main Street.
A $20 registration fee is required at the time of audition. A description of the audition process is here.
For further information, please follow the links below.
Please download and print our flyer to share. 2018 spring flyer
Check our Facebook page to see more videos of children's choirs. "Like" our Facebook page to help spread the word.
SaveSave
SaveSave
SaveSave
SaveSave
SaveSave
SaveSave
SaveSave
SaveSave
SaveSave
SaveSave
SaveSave